Presentation of collaborative research project "TRI-SOME" in Larissa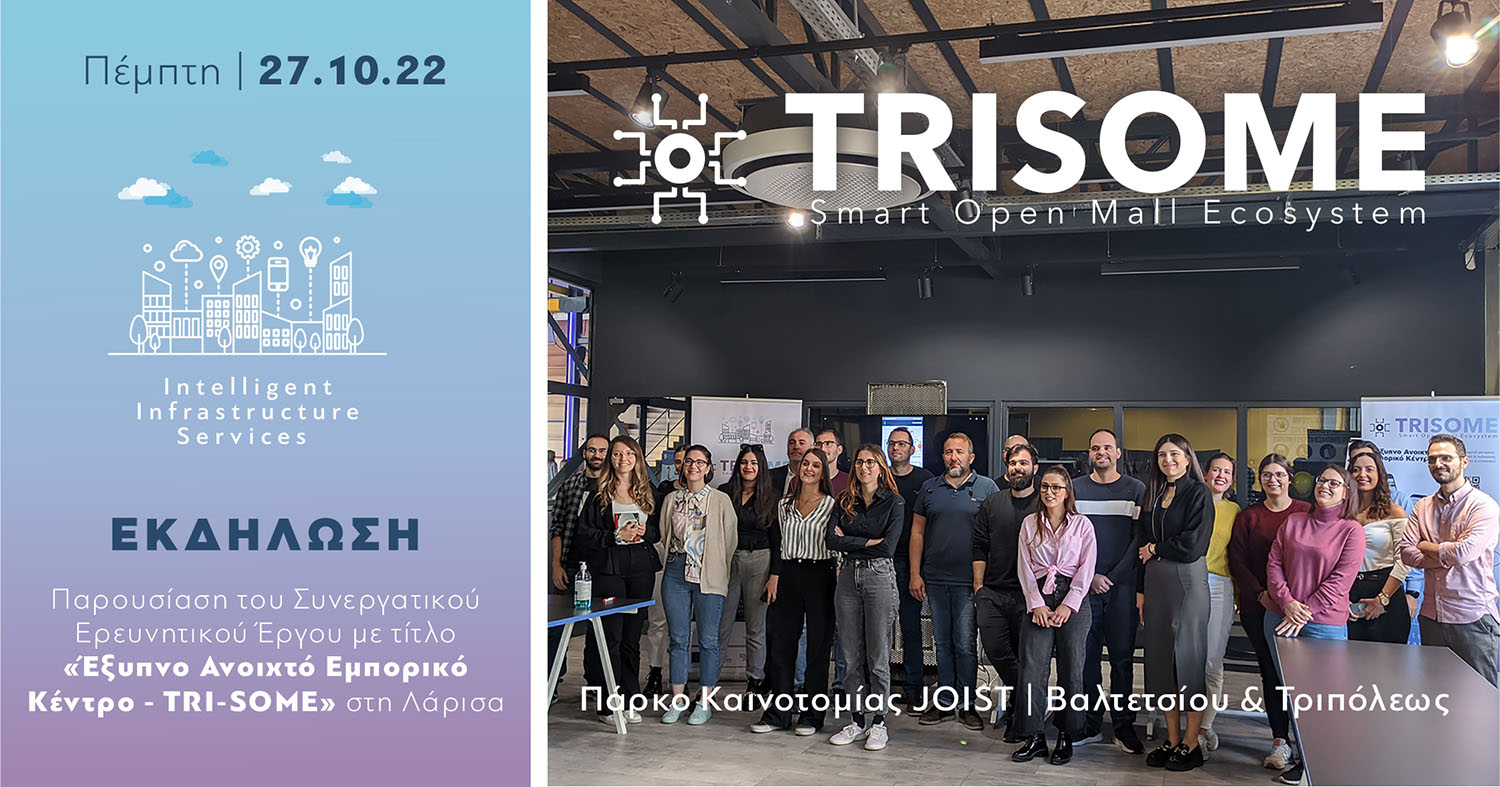 On Thursday, October 27, 2022, at 11:00, the Presentation of collaborative research project entitled "Smart Open Shopping Center" – "TRI-SOME", in Larissa, at the "JOIST" Innovation Park.
The implementing bodies undertook the first presentation of the project in the city of Larissa for actions of touristic, cultural and commercial interest of organizations and municipalities.
The detailed presentation of the project was developed by the Administrator of the Spirito company, Mr. Christos Jenicheftsis, who participates in the collaborative scheme of the project, referring to the whole of the services provided by the "TRI-SOME" platform, after first thanking them attendees, partners and representatives of the local market.
Mr. Jenicheftsis analyzed the structure, the schedule and the objectives of the project
without omitting to refer to the dissemination and publicity activities of the project
and its results, with the aim of informing and mobilizing end users of the "TRI-SOME" platform.
The "TRI-SOME" is an integrated information system that provides services smart infrastructure with the aim of providing advanced and efficient cultural and tourist services. TRI-SOME encapsulates and extends the services of a smart city for the benefit of visitors, strengthening the local economy through its leverage of its cultural and touristic product.
The innovation of the project is based on integrated and personalized tourism, cultural and commercial service. The project turns the city into a Smart Open Shopping Center, an Ecosystem of interaction and synergy of all interested parties.
The pilot application of the platform was also presented in the city of Trikala so that
become functional, friendly, useful and profitable for users and future customers. The purpose of the project is the further implementation of the platform in second year, in different municipalities and shopping centers, both in Greece and abroad.
The Head of Administration and Interior addressed the attendees as well Policy of the Institute for Entrepreneurship Development (iED), who praised the important initiative that undertakes the project in the context of regional and local development finally recognizing the need for extensive networking of agencies and entering into partnerships in this direction.
The project is implemented within the framework of the Action "RESEARCH – CREATE – INNOVATE", which co-financed by national resources (through the EP Competitiveness,
Entrepreneurship & Innovation – EPANEK, NSRF 2014-2020) and from community resources (European Union, European Regional Development Fund) (project code T1EDK-
03473).
The project is implemented by ASSET Technology, GRIDNET and Spirito Group.
Information:
https://www.facebook.com/Trisome-109491590924884
https://www.instagram.com/trisome_system/